Cleaners and Polishers of Marble, Travertine And Stone Flooring.
Travertine Floor Cleaning, Polishing and Sealing in Sevenoaks, Kent.
Below are images both Before and After cleaning, polishing and sealing:
Below left shows: Cleaning in progress. Below right shows: Floor half cleaned, see the differnce, and they had not finished yet!
During Cleaning of Travertine Tiled Floor
 
Below is an after picture of the floor, Mr & Mrs Small did not want a high shine so the travertine floor was polished a sheen finish, for more finish option on Travertine please Click Here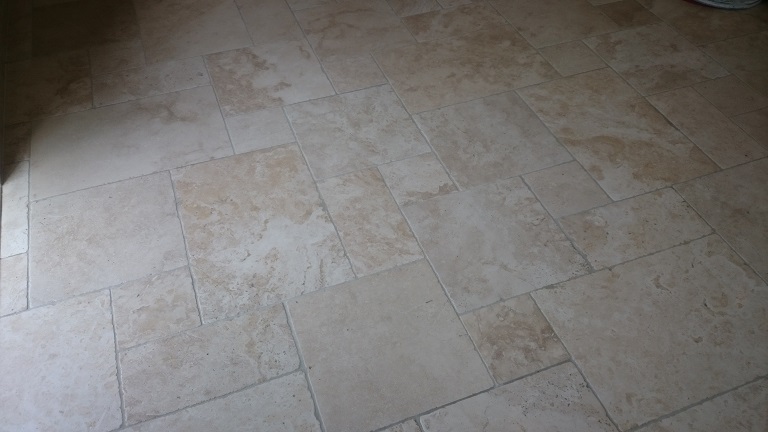 Please note that in the After Images the seal in the groute lines is still drying so they will lighten further.
The above is a open faced, tumbled edge Travertine. - Sometime Travertine is know as Limestone Travertine and each retailer will call it by a different name examples are "Classic Travertine", "Light Travetine", "Basic Travertine", "Parchment Travertine" etc.
---
Travertine tiled floors account for around 50% of the restoration work carried out by Bond Stone Cleaning, please see our Travertine Page and other Testimonials.
Great news for all Travertine Tiled Floor owners is that travertine cleans and polishes well, most say that after restoration it looks better then when it was laid, this is often because tilers don't buff off the excess seal properly (although it is on most seal containers) so after a very short time the floor looks dirty. Bond Stone Cleaning does best practise for Travertine restorations, this includes deep-cleaning the tiles, cleaning the grout lines then diamond polishing the stones surface which brings out the patters and colours in the stone. Most travertines can be polished to a matt, mid-sheen or high shine finish. After cleaning an polishing a inpregnator seal is applied, after a suitable drying time the excess is buffed off. The final stage of all works is to give advice on the best way to care for your now bauetifully clean floor, this includes suggestions on general cleaning solutions etc. Although the above floor did not need repair work, often Travertine has holes and cracks which appear over time these can be successfully filed and often disapear completly, please contact Bond Stone Cleaning for further details.
---
 CALL 0800 007 5088 / 07940 855 883 For a FREE No-Obligation Quotaion
---
All images on this website, including the above Travertine Tiled Floor are from work carried out by Bond Stone Cleaning and are copyrighted to them.
Bond Stone Cleaning is a professional stone restoration company, they also clean, polish and seal marble, limestone, sandstone, as well as clean and seal sale, porcelain and victorian tiled floors.